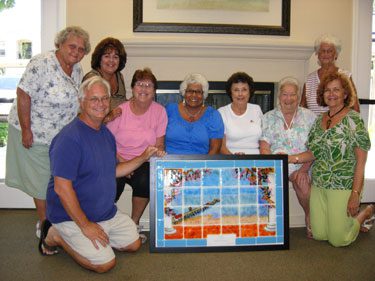 Artist Outreach Project Recognized by Grantmakers in Aging (GIA) as a Model Program
Grantmakers in Aging (GIA) cited the Picerne Family Foundation's Artist Outreach Project as a model program in its recent online publication, "For All Ages: The GIA Guide to Funding Across the Lifespan." The Artist Outreach Project was commended in these three areas:
1. An example of engaging older adults to help their neighbors and neighborhoods. KAPF was cited as an organization that utilizes the experience, time and talents of a community's older residents in a way that is mutually beneficial to neighbors and neighborhoods that could use a helping hand, as well as to the older adult.
2. A response to the need for creative aging programs to improve the quality of life for communities and individuals alike, for fostering diversity, community cultural development, health promotion, and intergenerational understanding.
3. An example of a community-based program that helps older people – as the keepers of culture – remain dynamic members of society and provides younger generations with positive role models and connection to the past.
Grantmakers in Aging is a national membership organization comprised of philanthropies with a common dedication to improving the experience of aging. Learn more about GIA by visiting the GIA website. You can also read more about how to establish an Artist Outreach Project in your own community or contact us for more information.