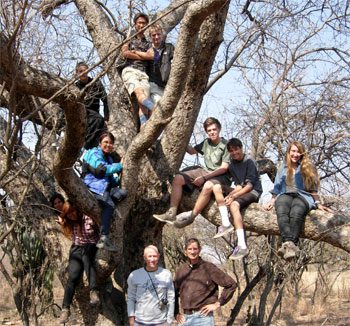 First group of Global Sustainability Project teens return from Mankwe Wildlife Reserve in S. Africa
Nine teens and the director of the International Baccalaureate (IB) program at Ocean View High School returned to the U.S. on August 24, 2012 after spending 12 days on the Mankwe Wilderness Reserve and the Pilanesburg Game Preserve in South Africa. The students were the first group to be sent in the Global Sustainability Project's pilot program. Students participated in sustainability research conducted by Earthwatch scientists which included documenting predators attracted to a recording of a squealing pig late at night. Students observed lions and leopards within feet of their vehicle as well as jackals and hyenas. Students also participated in transect studies of hyena and jackal scat. Students set camera traps, observed large game on treks and in an open vehicle, learned tracking and bush skills and went on an anti-poaching patrol. Students completed their tour with a visit to the Apartheid Museum in Johannesburg.
During their senior year, the students will be implementing their learning and experience by creating a year long sustainability project in their local community.