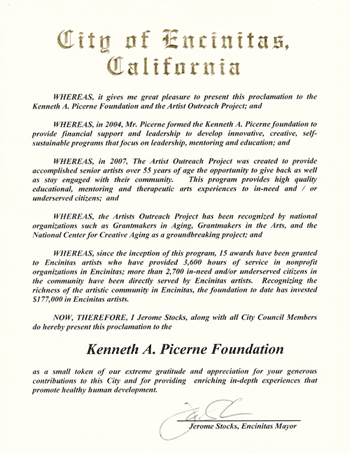 KAPF Honored by the Encinitas City Council for the Artist Outreach Project
The Picerne Family Foundation was recognized by the City of Encinitas for its contribution to Encinitas artists and non-profit organizations at the Encinitas City Council meeting on May 23, 2012. Mayor Jerome Stocks presented a proclamation expressing gratitude for the Foundation's Artist Outreach Project to Ken Golden and Victor Nelson. Since the inception of Artist Outreach in 2007, The Foundation has invested $190,000 to provide opportunities for Encinitas senior artists to give back to the community. These artists have collaborated with 17 nonprofit organizations to provide arts programs for 2,700 people of all ages in the City of Encinitas.
The vibrant community of Artists, strong nonprofit organizations, and the Arts Administrator's advocacy in Encinitas has made it a pleasure to invest a significant amount of Artist Outreach resources in Encinitas!