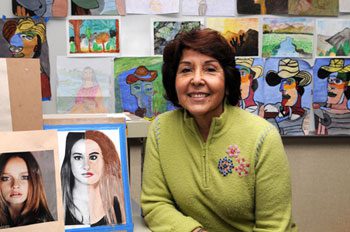 Berta Villaescusa, Outstanding Artist Outreach Project Artist
In April, we had a chance to visit Roberta Villaescusa's AOP program at the Vista Academy for the Visual and Performing Arts (VAVPA). Her "Madres" group for Spanish-speaking mothers is producing some excellent artwork. Berta is teaching visual art techniques to Spanish-speaking mothers, collaborating with Center ARTES and VAVPA. This newly formed "Madres" project is designed not only to impart art skills to these mothers but also to help them build a sense of community and belonging.
An experienced and credentialed art instructor, Berta has taught both children and adults in a variety of art-related fields. She has taught in several school districts as an Arts Coach, where she helps teachers teach subjects with art integration strategies. Her current work evolved from her many years as a "professional parent," volunteering, leading, and assisting PTA organizations with activities such as the Reflections National PTA art program. She knows and believes that art can be integrated with the learning of many different subject areas, and that by using both sides of the brain people can become more comprehensive and fulfilled learners. By educating parents in this way, Berta hopes that families will be empowered to spread their knowledge and to keep the arts alive in schools.