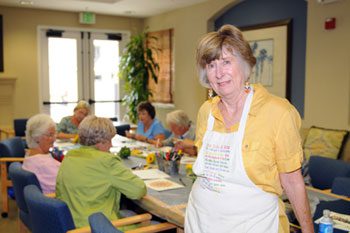 Lynne Everett, Outstanding Artist Outreach Project Artist
We recently had the opportunity to visit AOP artist Lynne Everett, who is working with seniors at affordable housing locations. On this day the group was working on colorful mandalas. Take a look at their beautiful work!
Lynne Everett is leading Expressive Art Workshops for seniors at affordable housing locations in both San Clemente and Irvine. Her workshop activities include painting, collage, journaling, and mask making. Lynne's extensive experience as an artist and art instructor has demonstrated to her first hand the value of art as a tool for self expression. Her sessions involve small groups and include time for the participants to discuss their art with each other. She also has the artists title, sign, and date each piece of artwork so they can track their progress and take pride in what they have accomplished.