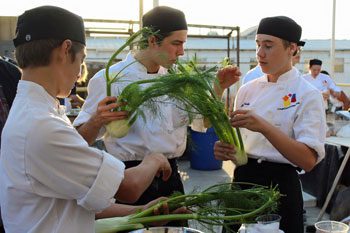 Orange Home Grown to establish a Youth Food Literacy Program
The Picerne Family Foundation awarded Orange Home Grown in Orange, California a $23,000 grant to create the "Youth Food Literacy Program". In addition to financial support the Foundation will provide college scholarships to selected participants as well as executive coaching and board development assistance to Orange Home Grown leaders. This project was funded through the Picerne Family Foundation's Giving Back Program. The Giving Back Program provides support to local nonprofits that are helping develop healthy communities where The Picerne Group has established investments.
The purpose of the Youth Food Literacy Program is to foster a healthier, more sustainable food system and to pass these values on to the next generation. To accomplish this, Orange Home Grown will select local high school students to participate in a 12-month certificate program that provides hands-on learning opportunities designed to give students the tools to make informed choices related to food, their health, and their future. The program engages students in the entire food production cycle through experiential learning sessions lead by farmers, local chefs, dietitians, caterers, culinary schools, and food science professors. For more information about Orange Home Grown visit www.orangehomegrown.org.